Weddings
We do … I do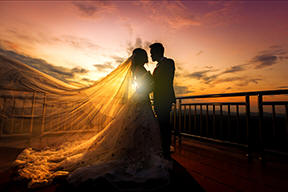 Nobil knows how to do weddings right. We've catered nearly a 1,000 of them since 1995, so we can handle all the details and let you enjoy your big day, your family and your guests.
We have an ideal venue as the exclusive caterers of the Ocean City Yacht Club. With a capacity of up to 220 guests inside, and more covered seats outside, the Yacht Club is a truly an exceptional location for your special day. The sunsets seem to light up the sky for hours, but they'll linger even longer in your memories than they do over the wide-open bay that stretches out to the horizon.
For smaller, more casual weddings, we offer the beachfront Cousin's Grill at Lucy the Elephant in Margate, an unforgettable spot under the gaze of the world's largest elephant.
Another intimate waterfront wedding option is our Saltwater Café, which looks out over Cape May Harbor and has seating for more than 100 guests indoors and spectacular views from the deck outside.
But if you already have the perfect location, we have the expertise and experience to make your celebration perfect! We provide the catering and handle all the details and logistics for indoor or outdoor parties. Whatever you need, from tents to tables, bands to bartenders, we know how to make it work!
View our wedding information pages